THE ORATORY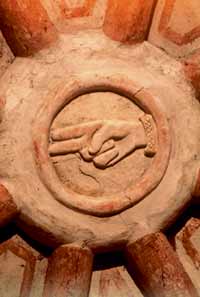 The small building consists of an almost square room opening out into a pleasant polygonal apse. The vaulted ceiling, formed by parametrical veils, shows a particular wealthy area in the apse, characterized by a fan vault with coloured ribs. On the central joint of the gores above the altar there is a well-proportioned medallion, which represents a benedictory hand in relief ending with a simple but elegant frieze made of brick. This material, which stands out against the light background of the plaster, characterizes the whole external of the little church forming the pilasters in relief and marking the line of the walls and of the brief projection's crowning.
The high wainscot, the edge of the small frontal rose window and the delicate denticular moulding decorating the entrance are also made of brick. The front wall is painted with a series of lozenges as if they consist of overlapping bricks in relief, which ease the façade as a whole.
The front portal is completely made of stone and shows on the lintel the coat of arms of the
Buzzatti
family that commissioned the work. On one side there is a low-positioned window completely framed by stone and bearing the engraving
"Offerta Madonna / S.° Nicholò / S.° Rocco"
. The window is sheltered by a strong grating and has an iron funnel to introduce alms. In the interior, next to the window, an engraved stone - belonging to a previous building - comes out from the plaster bearing an inscription in Gothic characters. Below the above-mentioned stone, another memorial tablet witnesses the 1946 restructuring work.
The little bell-tower stands at the south-western corner of the building and is completely made of bricks. It consists of an elegant bell-seat marked by four round arches and of a spire formed by some parts in bricks that have been expressly shaped in order to build the right circular cone of the ceiling. The bell, held by a very simple wooden structure, had been melted in 1922 and given to the parish priest of Sedico on the 20th of October of the same year, replacing the one carried off from the Austrian army in 1918 during the First World War.
In the interior we can still find brickwork on the flooring, made up of square and rectangular parts forming a simple geometrical pattern.

Print this page